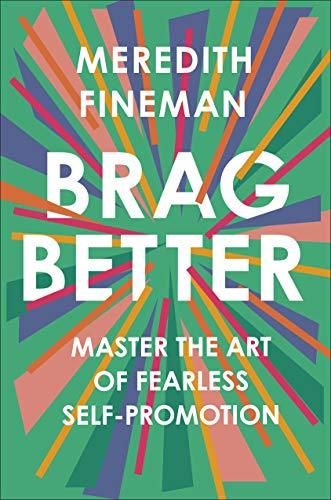 Present Yourself At Your Best
Meredith Fineman offers a guide to showing yourself in the best possible light and to standing up for your accomplishments.
Freelance writer Meredith Fineman, the CEO of FinePoint, a leadership and professional development company, argues that every time you meet someone new in your professional life, you have an opportunity to brag. Most people say they prefer to let their work speak for itself. Fineman believes you should take control of your message and brag proudly. She wants to help you develop pride in your accomplishments, find your voice and refine your message. She offers guidance on managing criticism and bragging about others.
While Fineman does not entirely succeed in stretching a worthy magazine article to full book length, Brag Better garnered positive blurbs from authors working in similar veins. For example, Fran Hauser, author of The Myth of the Nice Girl, wrote, "This whip-smart, empowering book dismantles the idea that to be heard, you have to be the loudest blowhard in the room."
Bragging
Many people, Fineman notes, want to promote themselves through hard work and hope their quality output will gain them the attention, praise and promotions they deserve. But the author is adamant that work does not speak for itself – and this is where bragging, she contends, can help you. Bragging, Fineman is quick to assert, doesn't mean self-promoting or exaggerating. To the author, bragging means learning how and when to share your accomplishments.
And in many ways, isnt that what Bragging Better is? An effective and efficient way to call attention to our work, our accomplishments, our genius, and our impact? Meredith Fineman
Fineman insists that bragging is you telling your story so others see you as self-assured and capable.
Be Proud
You can probably list your friends' accomplishments. When it comes to your own, Fineman recognizes, you may not be able to say aloud that you worked hard for your opportunities and achievements.
As a society, we are mixed up about who deserves attention and praise – we reward loud.Meredith Fineman
Fineman advocates constructing positive self-descriptions using clear, concise language. Monitor your voice to make sure you convey pride. When you talk about your work, remove any phrases that undercut your accomplishments. She cites a study revealing that male scientists use positive terminology more frequently than female scientists. Scientists are also more likely to cite papers by other scientists that feature positive language.
For Fineman, the perfect brag consists of showing gratitude for what you have and have accomplished, modest pride that you deserve praise, and letting your authentic personality shine through.
Strategy
Fineman recommends strategizing what you want your brag to accomplish. For example, do you want to be heard at meetings? Or to earn a raise or gain an internship? Explain why you want what you want, determine how you intend to achieve that goal, who your audience will be and how you want others to perceive you.
The author encourages you to practice with colleagues to refine your delivery. She teaches that you should be aware of bragging opportunities that may arise in the elevator, via email, during meetings or one-on-one conversations. While she claims you must be always ready to brag, some readers may wonder how co-workers trapped in an elevator with a bragger might respond.
Your Audience
Fineman believes public speaking builds confidence and suggests you try it. She also suggests you learn when not to brag. Read your audience, she cautions, and know when they've heard enough about your accomplishments. Also learn, she surprisingly proposes, to be modest.
The author adds the fairly obvious point that different online audiences will respond to different messages and that you should angle your appropriately.
Criticism
Shining the light on yourself, Fineman reminds you, will draw positive and negative comments. To prepare, the author advises you to be ready for your "nightmare question" – the worst thing anyone could ask. Fineman stresses that it's unlikely this question will ever arise, but preparing for it should relax you. She also suggests ignoring everyone's opinion. This is laughable, because her entire book concerns changing everyone's opinion about you.
Youre never going to be able to please everyone with your voice and message. Period. Dont even begin to try.Meredith Fineman
Fineman returns to a crucial and helpful theme when she urges you to learn how to accept praise. Celebrate your successes, she stresses, and let others celebrate you.
Collaboration
Bragging for others rewards you, as others gain rewards bragging about you. Instead of vesting in self-doubt or envy, Fineman recommends asking, would you be better off collaborating or competing? Think big, Fineman exhorts, act bravely and share credit proudly.
A Fine Line
Fineman created and hosts It Never Gets Old, a podcast about second-hand fashion, so she's at ease with public speaking. She writes in a confident, conversational tone that sometimes aids her arguments and sometimes undermines them. Like many niche self-help books – both personal and business – hers can be reduced to a one-sentence theme. Most of the book proves to be merely window-dressing for that one sentence, with occasionally worthy advice for those lacking self-confidence or those who allow others to take credit for their achievements. There's a fine line between showing the right kind of pride and being an obnoxious jackass. How you perceive that line will determine the extent to which you embrace Fineman's guidance.