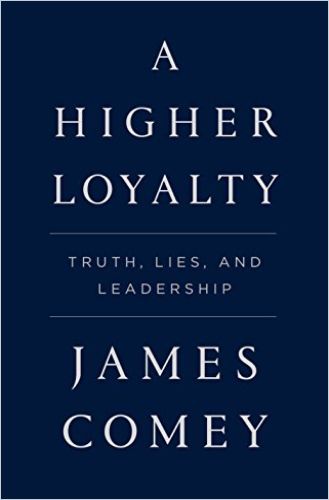 Inside the FBI and Justice Department
Former head of the FBI James Comey offers a career memoir detailing his time serving presidents Bush, Obama and Trump.
A Republican who served under presidents George W. Bush, Barack Obama and Donald Trump, Comey espouses – in this number-one New York Times bestseller – the need for public servants to stay neutral. Yet Comey enraged both political parties, first by dropping a last-minute, possibly election-shaking, bombshell about Hillary Clinton and then by calling out Trump for dishonesty.
NPR called this memoir "by far the most consequential book yet in the literature of the Trump presidency." The New York Times said it "provides sharp sketches of key players in three presidential administrations." But Rolling Stone found it to be "an obviously hurried project…and one that perhaps would have benefited from more distance for self-reflection."
Comey relates his life story and his advocacy of humble leadership and impartial bureaucracy. Comey does not focus only on Trump; he describes interactions with Bush and Obama as well. While his politics match Bush's, Comey says he found Obama more thoughtful and scrupulous than Bush, who had little interest in subordinates challenging his opinions. Comey regards both, however, as paragons of integrity compared to Trump. Trump fired Comey and called him a "slimeball."
Trump Lies
Donald Trump proved unwilling or unable to tell the truth, writes Comey. The author trusted Trump so little that Comey wrote memos describing their every meeting. Comey emphasizes that he found Bush and Obama far more trustworthy. Through his incessant monologues, Trump creates, according to Comey, "a cocoon of alternative reality."
In contrasting Trump's megalomaniacal behavior, Comey says effective leaders are humble and welcome dissent. Obama possessed humility, Comey argues, and the self-confidence to listen to those who disagreed with him. During Comey's conversations with Trump, the author reports, the president spoke nonstop, precluding any sincere give-and-take. The one time Comey challenged Trump – on a reference he made to Russian president Vladimir Putin – Trump abruptly ended their meeting.
Comey cites the bad old days at the FBI, when then-director J. Edgar Hoover called in favors and manipulated enemies. Comey claims that in recent decades, the FBI has been meticulously impartial. He argues that the FBI should never choose a side and says he unsuccessfully tried to convey this message to Trump. During a White House dinner, Comey writes, Trump told Comey, "I need loyalty. I expect loyalty." Trump later demanded that the FBI and Justice Department end their investigations into Trump's possible collusion with Russia.
After Trump's surprise election win, Comey acknowledges that Clinton and many Democrats blamed him for dropping a bombshell that swayed the results. But Republicans greeted Comey as a hero. Early in Trump's tenure, the author writes, the president viewed Comey as an ally. During a Sunday afternoon reception, Trump tried to pull Comey in for a hug – a scene Comey did not want. Comey says he called on his years-long regimen of "side planks and dumbbell rows," flexed his muscles, and resisted. Comey prevented the embrace, but Trump whispered into Comey's ear in a way Trump knew television viewers could misinterpret as a kiss. With this and other examples, Comey argues that Trump and his team demonstrated their intolerance of any governmental entity's independence of them.
Clinton's Emails
During the summer of 2016, Comey officially closed the investigation into Clinton's practice of reading classified emails on a personal server. After extensive scrutiny of the emails, Comey tells how he concluded that Clinton had behaved carelessly but had done nothing illegal; he announced this determination to the public. But in October 2016, the FBI by chance discovered hundreds of thousands of new emails to which it had previously lacked access. On October 27, with the election days away, the Justice Department asked for a search warrant to review Clinton's emails.
This new development put Comey and the FBI in a difficult spot, he relates. He had previously assured voters that Clinton would not be charged criminally, essentially putting to bed an explosive issue. Now Comey had to decide whether to stay silent or reveal new information. He writes of regarding his choices as either "Speak" or "Conceal": The former meant being transparent, and the latter meant risking Clinton taking office under an investigative cloud. Comey divulges that he was sure Clinton would win the election no matter what he did. Comey asserts – not entirely convincingly – that he didn't expect his October 28 announcement of the FBI reopening its investigation to change the course of history. Many Democrats accused Comey of turning the election to Trump.
Even-Keeled
Comey comes across as even-keeled and self-critical – a rare Washington, DC, player who's willing to see the good and bad in those on both sides of the aisle. He never seems willfully disingenuous, though at times you might think he should have been more aware of the consequences of his actions. Comey casts himself as something of a moral paragon and then expresses surprise when others – clearly less moral than he is – seek to exploit his actions for their political gain. Nobody with Comey's years in government has as little understanding of the political and media-reactive behavior that dominates today as Comey claims he possesses. Still, he details his career without much ego and offers convincing mea culpas for his mistakes. All but the most fervent Trump loyalists will learn much about the FBI and Justice Department from Comey.
James Comey also wrote Saving Justice. Other works concerning Trump or by former members of his government include The Room Where It Happened by John Bolton, The Threat by Andrew McCabe, Rage by Bob Woodward, Disloyal by Michael Cohen, and Fire and Fury by Michael Wolff.