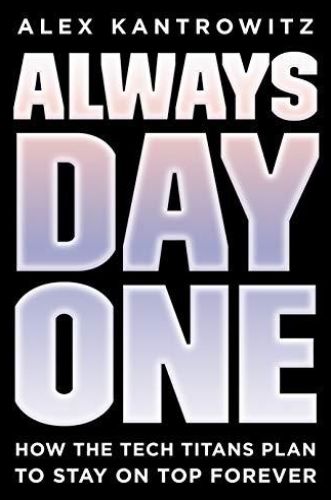 How Giants Compete Like Start-Ups
BuzzFeed News senior reporter Alex Kantrowitz describes how the largest tech companies either maintain or undermine their market dominance.
BuzzFeed News senior reporter Alex Kantrowitz suggests that today's biggest tech companies keep their competitive edge by embracing the inventive, collaborative spirit of start-ups. They prioritize reinvention, democratize ideas and dispense with rigid hierarchies. He details how Amazon, Google, Microsoft and Facebook maintain their dominance and explains how Apple suffers by clinging to an outdated corporate culture. ​​​​​Kantrowitz urges tech leaders to confront the potential harm their companies can cause and to channel their power to build a better world. It's little wonder, Kantrowitz says, that modern America faces an epidemic of loneliness when the internet cannibalizes social functions.
Mark Cuban, who knows a thing or two about market dominance, said, "Always Day One reveals the inventive elements of their [tech giants'] culture that entrepreneurs can and should learn from." Scott Galloway, author of The Four and The Algebra of Happiness, gleefully endorses Kantrowitz's outlaw attitude: A "gangster read that provides an inside look at the culture that has allowed the tech titans to perform infanticide on their competition." 
Prioritize Ideas
Kantrowitz's thesis is that the way dominant tech giants maintain an innovative spirit and competitive edge is by acting like start-ups and looking toward the future. The author profiles Amazon, Google, Facebook and Microsoft as titans that avoid hierarchy and encourage inventiveness.
Day One at Amazon is code for inventing like a start-up with little regard for legacy.Alex Kantrowitz
Kantrowitz explains that having an engineer's mind-set at these giant firms requires constantly collaborating and allowing ideas to come from anywhere in the hierarchy.
Amazon
The author covers well-trodden ground by citing Jeff Bezos's principles of thinking big, opting for action over development and letting workers with ideas lead their projects. By focusing on well-known companies, Kantrowitz grasps for new thoughts about them. He notes, as have other authors, that Bezos dislikes PowerPoint and makes employees write proposal memos to demonstrate that they understand their own ideas. 
Facebook Feedback
Kantrowitz is more successful in his discussion of Facebook, which requires workers to provide feedback, even when critiquing their bosses. Kantrowitz reveals that Facebook's feedback approach originated with the training company VitalSmarts. Kantrowitz seems less original describing Facebook's obsession with providing what its users want.
Google Prioritizes Transparency 
Kantrowitz credits Google's success to its ability to reinvent itself in the face of challenges and shifting technology trends. He does not cite its billions in annual revenue, though that might be a factor. The author suggests that Google makes transparency and the rapid sharing of ideas its top concerns. Kantrowitz believes Google's continued success hinges on whether it can embrace an open and transparent culture in the face of worker dissent. This seems naive, given Google's unassailable market dominance.
Outdated Top-Down Values
Kantrowitz takes a more compelling position when he argues that Apple fosters a destructive hierarchical culture that stifles collaborative creation and prioritizes execution over ideas. He asserts that in Apple's rigid culture, ideas flow only from the top downward.
Apples bets to create ambitious new products, like the HomePod — are failing. And Apples refinement culture, a relic of the Jobs era, is to blame.Alex Kantrowitz
Kantrowitz does raise one of the crucial reasons consumers love Apple: Its gear. For instance, the company will not help law enforcement authorities break into their iPhones.
Microsoft 
Kantrowitz explains the way Microsoft embraced start-up thinking and encouraged workers to experiment with big ideas while discouraging middle managers from being gatekeepers or stifling invention.However, the corporation has hurdles to overcome, he admits, in responding to employee complaints of sexist and racist incidents.
Dystopian Future
Kantrowitz again vests in the obvious when he notes that Google and Facebook undermine traditional news media as they attract digital advertising dollars – $65 billion in 2018 – while news outlets lose advertisers. And he again echoes other authors by pointing out that Amazon takes business from smaller, independent companies by selling its own brands in direct competition with theirs.
Limit Harm
Leaders today, Kantrowitz insists, need to monitor how AI learns and performs traditional jobs to make sure that it isn't learning biased or harmful behaviors. He cites Amazon's automated recruiting system, which adopted sexist algorithms that selected male over female candidates.
The best-case scenario is worth fighting for. It will take political will and good corporate actors to get there, and it wont be a smooth ride for everyone. But if we make it, well be living in a healthier, happier and more stable society.Alex Kantrowitz
Kantrowitz acknowledges that you can't stop technological change as companies embrace cloud computing, AI, machine learning and collaborative tools, but you can mitigate its risks and limit technology's potential to do harm.
Broad Parallels
Kantrowitz writes well, and his flow makes for easy reading. But he could offer more original insights, and his comparison of tech monsters to start-ups does not always hold water. This, then, is a work for students seeking broad parallels in the tech industry or for laypeople who don't read deeply in the field but are curious about tech giants. Brand-new entrepreneurs may find helpful guidance in their early days in Kantrowitz's broad strokes.
There are as many books offering portraits of digital behemoths as guides for entrepreneurs as there are stars in the sky, but four of them are particularly helpful adjuncts to Kantrowitz's ideas and philosophy: No Rules Rules by Reed Hastings and Erin Meyer, No Filter by Sarah Frier, Lead from the Future by Mark W. Johnson and Josh Suskewicz, and The Innovation Stack by Jim McKelvey.