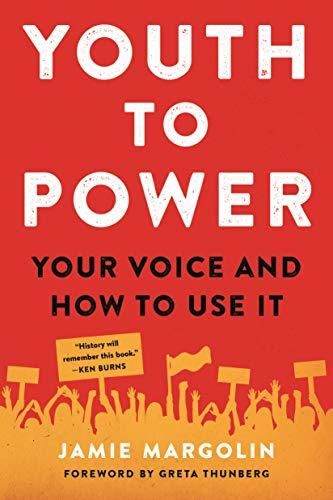 A Young Activist Speaks
Teenager Jamie Margolin explains precisely how people too young to vote can act to change the world.
Colombian-American community organizer, activist, author and public speaker Jamie Margolin, 18, co-founded the environmental action group Zero Hour. She led the "Youth Climate Marches" in Washington, DC and more than 25 other cities globally in 2018. Greta Thunberg, renowned activist and author of the best-selling, seminal No One Is Too Small to Make a Difference, wrote the foreword. She says Margolin's Zero Hour marches inspired her and her School Strike for Climate/Fridays for Future movement. Given the millions of people Thunberg has inspired worldwide, citing Margolin as her influence confirms the power of Margolin's voice and actions.
In this bold, inspiring guidebook, Margolin provides practical advice for being an agent of change. She explains the difficulties of getting heard, the importance of knowing how to frame an issue to get results, the need to keep your ego out of the way and the value of – in the late Rep. John Lewis's words – getting into "good trouble." If you want to advocate for a cause, Margolin will help you make it happen. Thunberg's foreword underscores Margolin's argument for young people to step forward. 
Though these two works offer inspiring messages and comprehensive, functional steps for effective activism, readers seeking further advice in their struggle to support causes they believe in will also benefit from How I Resist: Activism and Hope for a New Generation by Maureen Johnson.
Find Your Why
Being an activist is hard work. Before you begin your journey, Margolin urges you to investigate your "why." It is the reason you are fighting. Every article you write, each protest you attend and every job you take should serve your why, your purpose. She wisely notes that these measures are steps along the way, not ends in themselves.
You are a part of a global family of change makers that has been slowly but surely bending the moral arc of the universe toward justice for centuries.Jamie Margolin
Margolin describes becoming an activist at age 12 when she saw the effects of pollution and climate change. She organized her first mass movement – Zero Hour – at age 16, and helped launch more than 25 Youth Climate Marches in 2017. Margolin proudly identifies as a gay woman of Colombian roots, and advocates for people of color who seek LGBTQ+ rights.
Start Simple
Margolin reminds you that you aren't a world expert in the issue that matters to you – that's the point. She argues that learning about issues and finding like-minded people form the core of activism. Investigate your cause through social media, she suggests, then send other advocates a message, or join a meeting or an event.
To learn, just get started, perhaps by volunteering for an organization whose mission aligns with your concerns. If you're not ready to join a group, Margolin suggests writing to a legislative representative, using social media to link your personal story to the issues you care about or developing a school project.
Writing Helps
Introverts need to connect with their why in a personal way. Writing helps. Margolin recommends the blog site, Teen Ink. Because young people can't vote, writing – op-eds, letters to the editor or a blog – enables them to be heard. Margolin outlines the steps for spreading your written message. She advises creating public relations (PR) materials with updates on your movement's work. Include dates, times, contacts, and your event or action. Call journalists.
Margolin is outraged that people younger than 30 seldom vote. She tells readers that failing to vote lets older generations decide your future. Instead, she says, step forward and let adult leaders know your perspective on issues that matter to you.
Prepare
Margolin details how planning a march or rally for a cause can take a year; putting together something more local may take only a few weeks.
The action you take now will decide the future of our planet and everything on it.Jamie Margolin
On the day of the event, she urges you to have safety measures in place and document everything for your post-event narrative. Margolin is adamant about creating a record of everything that happens. Peaceful direct action should be a last resort, she cautions. Know and understand any law you might break. She stresses repeatedly that violence is counterproductive.
Your Superpower
Margolin insists that kids have no time to waste in saving the future. Regarding climate change, she asserts that no one can blame young people. While they live on the cutting edge of culture and technology, she concedes that they can't control the legislative process or change laws or their enforcement or directly influence mainstream media.
"A lot of being a youth activist is about pulling the seat up to the table yourself, because no one is going to invite you.Jamie Margolin
utting to the heart of the matter with common sense, as Margolin does throughout, she avows that the best way to bring about change is through collaboration and respect.
Real Life
Margolin disdains "clicktivists": people who want to look like activists without doing hard work in the real world. Activism is about bringing attention to an issue, not to yourself. The author advocates integrity and restraint in the social media universe. Never post personal information or inappropriate things about your life. Your cause is not you, Margolin chides. She calls for self-understanding. If you are obsessed with getting the most "likes" or gaining recognition for your efforts, she advises you to step back and re-evaluate your why. She says your activism should continue unabated even if, tomorrow, all social media vanished.
Hold onto Yourself
With youth activism gaining popularity, Margolin worries that big companies and influential people want to be part of it. She cautions that companies and politicians can amplify your cause while taking advantage of you. Margolin is hard-nosed. She states flat-out that such participants must have more value for you than you have for them.
Am I staying true to my community? Am I staying true to what I fight for? Am I staying true to who I am as a person and my values?Jamie Margolin
Margolin knows that activists must manage egos for activism to pay off. She boils her entire book down to one message: Justice isn't a gift; you must demand it. You have the power.
A Steely Voice
Like Greta Thunberg, Jamie Margolin is an astonishingly clear communicator for one so young. She has not yet acquired any bad writing habits. She uses simple, short, clear sentences and – remarkably for an activist tome – pretty much never repeats herself. She writes for a specific demographic, with a passionate, disarming directness. She seldom engages in agitprop. Margolin essentially offers a steely, fundamental guide to behavior and any activist, young or old, can follow her tactics and strategies to positive results. Whether you agree with her or not, Margolin's heartfelt fervor and dispassionate language will inspire you.