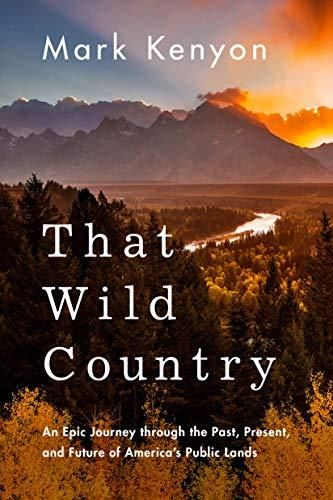 A Passion for the Land
Outdoorsman Mark Kenyon guides you through the wilderness of United States' public land exploitation and conservation.
Outdoor enthusiast Mark Kenyon hosts the Wired to Hunt podcast and writes for Outdoor Life and Field & Stream. A devout outdoorsman, he offers a love letter to United States' wilderness. He describes how the nation's treatment of its wilderness has zigzagged between exploitation and conservation. He doesn't shy away from being political when he discusses exploitation and destruction, but he focuses on conservation in this inspirational account of the leaders, writers and activists who preserved wild majesty.
It's about as profoundly American an idea as you can find: the democratization of land and resources and food and recreation and wildlife and scenery and space and solitude.Mark Kenyon
Kenyon details how Theodore Roosevelt and other conservationists crafted the public land system despite commercial opposition, and he profiles ongoing conflicts between conservation and development. Kenyon makes his personal passion for the outdoors clear. Books on parallel subjects that mirror Kenyon's earnest lyricism and compelling history include Steven Rinella's American Buffalo: In Search of a Lost Icon and Beyond the Hundredth Meridian by the renowned western author Wallace Stegner.
640 Million Acres
Kenyon begins with revealing numbers: public lands in the United States – national parks, national forests, wildlife refuges and Bureau of Land Management acreage – account for more than a quarter of the country's landmass. This land, Kenyon emphasizes, is open for camping, hunting, fishing, hiking, biking and studying wildlife. The author cites US Department of the Interior statistics that the public lands it manages contributed $300 billion to the US national economy in 2015. 
Individuals make "around 588 million recreational visits a year to America's public lands – people enjoying a much-needed break from the rat race next to a softly flowing stream…or having their first up-close experience with a 1,000-pound buffalo.Mark Kenyon
Kenyon loves the saga of American public lands as the legacy of generations of conservationists, outdoor enthusiasts and forward-looking politicians. The author regards Theodore Roosevelt, Bob Marshall, John Muir and Aldo Leopold – among others – as heroes who fought to preserve wild places.
Unbridled Exploitation
Kenyon provides the history of how the United States promoted western migration by selling land cheaply or giving it away – 160 acres to any family who would work the land for five years. It awarded 61 million acres to soldiers, and gave millions of acres to railroad interests. Kenyon laments that by the end of the 19th century, whitetail deer, elk and turkeys faced extinction, and the wholesale slaughter of buffalo almost eliminated a population that had numbered 30 million. As most western writers do, Kenyon regards the mythic buffalo with great romance.
New Conservationist Attitude
Kenyon, an avid hunter, underscores that hunters and environmentalists both advocate protecting animals and protecting wilderness areas from private exploitation.
In 1871, the head of the US Geological and Geographical Survey of the Territories, sought to designate the area around the Yellowstone River as a national park. President Ulysses S. Grant signed the legislation in 1872. Yellowstone National Park, all 2.2 million acres of it, was the first land in which all Americans shared ownership. Kenyon cites this as the first collaborative endeavor to save a wild species – buffalo – from extinction. He reports that Yellowstone's creation set a precedent for preservation and "served as a template for future public land reservations." Four million people visit it annually.
Theodore Roosevelt
Kenyon admires the contradictory president Theodore Roosevelt – a hunting conservationist like the author – who led presidents William Henry Harrison and Grover Cleveland to create millions of acres of forest reserves. In 1908, Roosevelt applied the Antiquities Act to protect 800,000 acres in Arizona, which he designated as part of the Grand Canyon National Monument. The author offers an astonishing roll call of Roosevelt's accomplishments: The president established five national parks, 150 national forests, 18 national monuments and more than 50 wildlife and bird refuges. Kenyon reports that Teddy's passion for hunting did not contradict his commitment to conservation. To the contrary, being a hunter was pivotal in his efforts to protect wildlife and public lands.
In California, John Muir advocated preserving the Sierra Nevada through books, articles and essays, eventually spurring legislation that established California's Yosemite, Sequoia and General Grant National Parks. He founded the Sierra Club, still an important conservation group.
Environmental Activism
Kenyon details how the 1960s and '70s unleashed a fervor for protecting wildlife and public lands. In 1964, President Lyndon B. Johnson established the National Wilderness Preservation System, new public shorelines, such as the Pictured Rocks National Lakeshore in Michigan and the Point Reyes National Seashore of California.
With public opinion in favor of protecting the environment, the nation witnessed a rare moment in history when both Democrats and Republicans fought in equal measure to carry the mantle of the environmental movement forward.Mark Kenyon
Congress passed the Multiple-Use Sustained Yield Act, the Land and Water Conservation Fund, the Wild and Scenic Rivers Act, the National Trails System Act, the Federal Land Policy and Management Act, the Clean Air Act, the Clean Water Act and the Endangered Species Act.
Donald Trump
Kenyon does not hide his bitterness toward Donald Trump, who reduced the size of Bears Ears National Monument by nearly 85% and cut the Grand Staircase-Escalante National Monument by 50%. Kenyon characterizes this as the biggest rollback of public land protections in United States' history.
Kenyon lists just a few of Trump's environmental assaults: increasing extraction of oil and gas; limiting the Antiquities Act; restricting the Endangered Species Act; and opening the Arctic National Wildlife Refuge and other wildlands to gas and oil extraction. The Trump administration and Congress rolled back protections from more than 150 million acres of public land and allowed the Land and Water Conservation Fund to expire in 2018. Kenyon exemplifies the Trump administration's tactics by reporting that under pressure the government reauthorized the fund, but cut its federal funding by 95%.
Love of the Land
At times, Kenyon's love of the land outruns his ability to describe it, but anyone interested in the history of United States' conservation will find the author a kindred spirit. However, mining and lumber interests, frackers and states-righters will argue against many of his ideas. While Kenyon does not preach to the choir – he's not a preachy writer – he exhorts readers to work for, donate to and support every form of protection for public land, air and water. Kenyon is a throwback to another generation of conservationist-hunter-writers, and stands proudly in that tradition. How you regard conservation will determine whether you enjoy his tale.