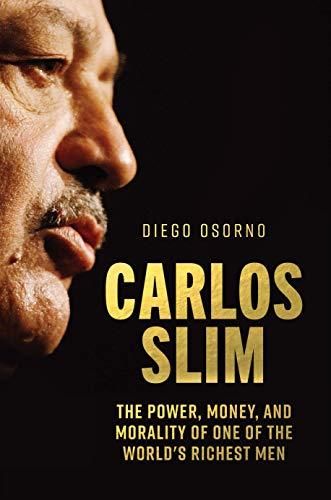 A Billionaire's Life
Renowned journalist Diego Osorno details the life of Mexico's richest citizen in short, compelling chapters.
Writer-director Diego Osorno details the life of Mexico's billionaire citizen in a succession of short chapters. These brief cuts let Osorno view Carlos Slim with almost-irony; their brevity leaves a lot of space for readers to draw their own conclusions. Osorno does not regard Slim lightly – the author spent years researching and the biography showcases his serious effort. This is not a hagiography, but no intelligent author – and Osorno is clearly that – willfully antagonizes a multibillionaire. He uses extensive interviews and articles to contextualize Slim's significance and showcase his espoused values.
John Freeman, author of Dictionary of the Undoing, captured the book's heft: "One of the world's best reporters tells the story of Carlos Slim, Mexico's richest person and the first from a developing country to make it to the top of the Forbes list."
Business Theories
Osorno paints Mexican telecommunications billionaire Carlos Slim as a man who shares his business theories with his 220,000 employees. Slim believes in establishing minimal hierarchies, pursuing austerity and improving processes. Slim – among the world's richest men – believes in teamwork, reinvesting profits, and forthrightly addressing business and social issues. He touts a positive attitude – easy for a billionaire to do – hard work and the idea that the rich are only temporary custodians of their riches. While Osorno doesn't question most of Slim's espoused beliefs, he's a bit skeptical about that last one.
Carlos Slim is known for being one of the richest men in the world in a country with 50 million poor.Diego Osorno
Osorno writes simply that by Slim's 70th birthday, his wealth itself earned him $2 million an hour. The author need say nothing else to clarify the scale of Slim's fortune.
International Telecom Mogul
Slim's prescient university thesis proposed that electronic calculators would transform business. Osorno tells how Slim over time bought a bottling plant, "a brokerage firm, a construction company, a mining company, a real estate operation and a property development company."
Osorno discloses the accusations of corruption that follow Slim. The author quotes The Wall Street Journal suggesting that Slim's ties to Mexico's government contributed to his purchase of Telmex – the nation's only telephone company. Between 1988 and 1994, during the presidency of Carlos Salinas de Gortari, more than 1,000 Mexican state companies shifted to private ownership. Within a year of buying Telmex, Slim was a billionaire. He later fused Brazil's two telecommunications companies, Claro and Embratel, with his other telecom businesses. By 2010, Slim's América Móvil, the largest communication supplier in Latin America, had 260 million customers.
Osorno refers to Slim's concept that private enterprise can boost a national economy. The author explains how Slim has carried this out steadily in the ways he's benefited Mexico. For instance, Slim bought 100 buildings in the center of Mexico City and invested in building up Polanco, a previously depressed area that now offers luxury apartments, an aquarium, a museum and a Slim-owned shopping mall.
The Mexican Lebanese Community
Slim grew up amid Mexico City's Lebanese community. Osorno interprets what that means: Lebanese culture, as he shows, takes particular pride in industriousness and business savvy.
A strong patriarchal system is one of the predominant features of the Lebanese diaspora's business dealings in Mexico.Diego Osorno
Like his father and uncles, Slim and his brothers are business partners. They hire their nephews and sons-in-law. In 1966, Slim married Soumaya Domit Gemayel, the daughter of an important Lebanese family with strong right-wing affiliations. They had six children. She died of kidney disease in 1999, at the age of 50. Slim has never remarried, though the author quotes gossip about Slim's possible dalliance with Sophia Loren, whose 80th birthday party he helped organize. Slim believes in friendship. Osorno tells the suspenseful story of what happened when a friend's son was kidnapped: Slim took money from his safe, contacted friends and raised the ransom overnight to save the boy's life.
Philanthropy
Osorno credits Slim for pledging to give $40 million to charities that help women in rural areas give birth safely ​​​​and to organizations that fight kidney disease and support transplants such as the one his wife required. Slim financed studies about diabetes, trained people who treat addicts, and supported research to find vaccines for the tropical parasitical diseases Chagas and Leishmaniasis. Slim funds bail for poor Mexicans who end up in jail for petty crimes. The author reports that Slim has also provided more than 400,000 bicycles for workers in remote areas and 80,000 wheelchairs and eyeglasses for more than 125,000 people. But, Osorno makes clear, Slim doesn't donate all that much for someone with $75 billion.
The author reports that Slim would re-balance the allocation of work, with people working in a job only three or four days a week for 11 hours each day, allowing other people to hold the same job on the remaining days. Again, you have to be a billionaire to think like that in the first place, but Osorno understands that this remains an interesting concept.
Books and Baseball
Orsono describes Slim's library: stories of Genghis Khan, history, biographies, business books, and statistical analyses of sports and finance. Six shelves of books cover one wall in his 900-square-foot office.
Slim can be a fascinating character because he has so much money but doesn't show it off.Diego Osorno
Osorno traces Slim's friendship with literary giants Gabriel García Márquez and Carlos Fuentes, who fictionalized their relationship in Destiny and Desire. Slim is writing an autobiography with his nephew, Roberto Slim Seade.
Most billionaires have chauffeurs, but Slim prefers to drive. Orsono relates that Slim once collided into a taxi. A friend who was riding with Slim got out to talk to the other driver and told him, "My chauffeur was an idiot." 
Osorno delves into Slim's love of baseball and how Slim's attempt to establish a major league team in Mexico came to nothing – a rare frustration.
Elegant Brevity
Osorno, a renowned reporter on Mexican crime and social movements, also wrote War of the Zetas and The Sinaloa Cartel. At times, you may feel the author could be a more engaging subject than Carlos Slim himself. By writing with elegant brevity, Osorno gently places himself in the reader's process of understanding Slim. For anyone intrigued by one of the world's leading billionaires – and even if billionaires don't intrigue you – Osorno provides a literate, well-researched unique overview.