"Should I Quit and Start Something New?"
Meet Brittany, 40,
Director of Sales Operations
Brittany is currently the Director of Sales Operations at a Fortune 500 SaaS organization, where she has spent the past 10 years of her career. While working her way through the corporate lattice, she often received recognition as a top producer and leader among her peers.
After obtaining her MBA, Brittany made the transition to team leader, a decision that, she shares, "changed the way that I view success. My greatest accomplishments are no longer my own, but those of the people I have the honor to lead."
In her free time, Brittany enjoys volunteering with the local Girl Scouts and traveling to various cities to explore new culinary experiences – she was always driven by the desire to discover. But when it comes to her career, things are different: Brittany never felt an urge to change tracks. Multiple times she has passed on opportunities outside of her current organization because she felt that the timing was not right. Lately, however, she has caught herself thinking more often about what would have happened if she had changed.
Did she make the wrong choices? Can she overcome her trepidation?
***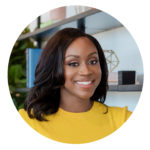 Dear Brittany,
The thought of walking away from a job that feels secure can be intimidating, and of course, I understand your uncertainty. You are not alone: Less than half of American workers are happy in their jobs! And workers who settle for jobs they hate undermine two primary human motivations: self-esteem and self-actualization. I think everyone can and should feel engaged, happy and valued at work – and in the end, this state of mind also makes us most productive. So, to lessen any angst about making a career change, evaluate your current situation and decide if staying is really in your best interest. How do you do that?
Take the time to find the right "work fit" with a glimpse of Fit Matters by Moe Carrick and Cammie Dunaway. This brilliant book guides you toward a job where you will flourish and thrive. Its authors suggest you start by asking yourself the following questions as you decide what is best for you and your career aspirations: 1. Am I thriving here? 2. Am I excited to come to work? 3. If another company offered me a job, would I take it? 4. If I decide to stay in my current job, will I regret this decision in three years?
One thing you should not question is yourself. Why? Because your desire to make a change does not reflect negatively on your ability to be successful. On the contrary, recognizing that you and your current job are no longer a fit shows that you have high self-awareness and intuition.
All the best for making further – and good – decisions, Brittany. And good luck with finding a job that fits!
Danielle

How the Journal Saves You Time
Reading time for this article is about 3 minutes.
This article saves you up to 6 hours of research and reading time.
1
We have curated the most actionable insights from one summary for this feature.
1
We read and summarized one book with 256 pages for this article.